26 June — 1 July 2018
Private View: Tuesday 26 June 6-9pm
Mayfair Art Weekend Gallery Hop: Friday 29 June 6-8pm
Gallery opening times: 11am-5pm daily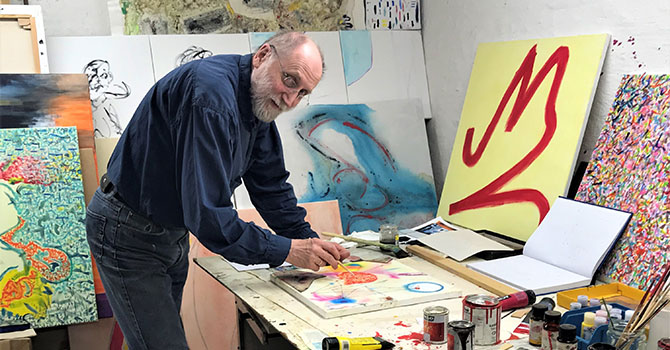 For Art Below's 2018 Summer Show 25 artists are being challenged to make work on the theme of the 'Digital Age' to go on show at Herrick Gallery and on billboard space across the London Underground this June. Each artist has been issued with a blank canvas (50cm x 60cm) courtesy of Cass Art 'to voice and document their current relationship and place in the digital age and to channel their feelings and emotions about this rapidly changing time that we are living through' Ben Moore, Curator.
Artists taking part include Ben Eine, Nina Fowler, Ekaterini Kouliakou, Hayden Kays, MC Llamas, Daniel Lismore, James Mylne, Molly Parkin,Stuart Semple, Schoony, Gia Strauss, Netty Wakefield and Detlef Aderhold
Selected works will be photographed and printed as billboards to go on display at Hyde Park Corner Tube Station from 18th June for two weeks.
All finished canvasses will go on show at Herrick Gallery from 26th June to 1st July running through Mayfair Art Weekend when there will be planned talks by established artists and leading professionals in tech and digital media to explore and discuss the work and the 'Digital Age' theme.
Art Below are a London based public art enterprise. With a wide range of international artists and its various campaigns in cities worldwide, the organization has an important position within the movement of contemporary art in public space. Art Below uses billboard space in underground stations to display artworks in London and overseas. The group has nurtured an international community of artistic talent and has displayed the works of over 3,000 artists in London, Tokyo, Berlin, New Orleans and Los Angeles.
Link: herrickgallery.com/art-below