November 11th to 17st
The Heart, the Mind, or Somewhere in Between:
On Detlef E. Aderhold's "Null Komma Null"
Article by Sabrina Mandanici
---
Chelsea Fine Arts Building
508-526 West 26th Street
9E-9F
New York, NY 10001
212-751-2210
Kevin OHanlon
Owner / Director
Eric Sutphin (MFA, The School of Visual Arts)
Critic / Curator
Rogue Space | Chelsea – Gallery and exhibition venue
Rogue Foundation – Creative Solutions for children in need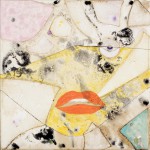 The title of the exhibition, "Null Kommma Null," which translates as Zero Point Zero. was taken from a small square painting of what appears to be  a woman's face . There is no way of identifying precisely what the title refers to; a starting point, an ending or perhaps, a blank slate. But the eponymous painting does give us an idea of the resonances that Aderhold's work touches upon. Feelings. Or-what we might prefer to call affect. The marred and stained surface of the canvases presented in this exhibition set the stage for whatever imagery might occur within their boundaries or frames.
If affective states can be said to be the unifying conceptual principle in Aderhold's practice then the stain is the formal element that sutures these seen and felt encounter. These stains, amorphous bodies, are often made with coffee, or heavily thinned paint. They might be controlled as in Don't Speak (2009) in which a young woman's mouth is nearly obliterated by a thought bubble-shaped stain that swells out toward the painting's left edge. The psyche, the internal drama played out against diffuse rituals, becomes manifest in Aderhold's work, it seems, not as a precondition but rather, as a series of connections and resonances that emerge out of their production.
Aderhold shows us that painting-one among many of such "diffuse rituals" -is still a locale, a theatre, in which surprise, pain and delight can occur. In light of the critical rebuttals against some recent abstraction, Aderhold's work proves itself to be consistently rigorous and endlessly gratifying. Through his constant experimentation with new modes (tracery, frottage, collage and photography) each one of Aderhold's paintings holds within it a feeling of stumbling upon something-like a surprise, or a gift.
artcritical – the online magazine of art and ideas
Germany in NYC – The place for all things German in New York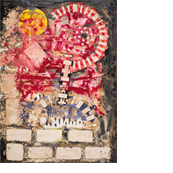 Invitation PDF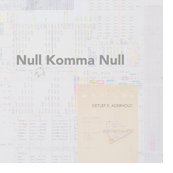 Catalog PDF