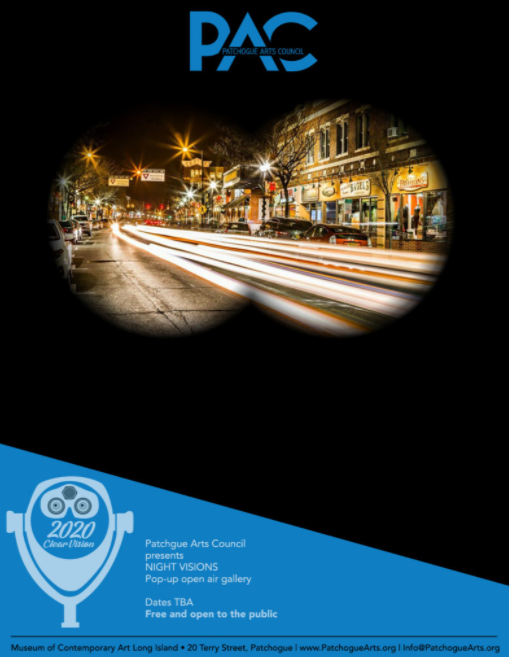 FALL – WINTER 2020 | Outdoor pop-up gallery
As the days get shorter and darker the Village of Patchogue will begin to glow, transforming the downtown into an open air exhibit as the Patchogue Arts Council presents MoCA L.I.ghts 2020. This program includes a series of compelling, site-specific artist-designed light works that include projection, video, animation, and gifs. Installations will take place on the facades of various architecture, the Patchogue Theatre marquee, and on a pop-up inflatable gallery screen. A live broadcast of MoCA L.I. events will take place on social media!
NIGHT VISIONS | pop-up inflatable gallery screen will be placed in various locations throughout the Village of Patchogue creating an immersive art gallery experience for the community.

Works by selected artists will be projected onto an inflatable screen at selected downtown locations including the Carnegie Library, Patchogue Village Community Garden, and outside of MoCA L.I. in the Patchogue Arts District! This exhibit will take place on various nights through October – December 2020. This is curated by the MoCA L.I.ghts curatorial committee.
Museum of Contemporary Art Long Island 20 Terry Street, Patchogue